Skip to Content
What Is Laser Dentistry? A Dentist in Valparaiso Lets You Know All the Benefits This Modern Tech Offers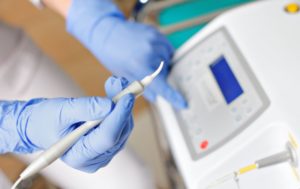 A dentist in Valparaiso is using some of the most advanced technology in their field to provide their patients with high-quality and comfortable care. So, what benefits do lasers offer your mouth? This modern tool can eliminate the hassle and discomfort associated with certain dental procedures. In fact, 99% of treatments done with a laser don't even require anesthesia! Learn how these magical dental tools can eliminate pain and keep your mouth in the tip-top shape below.
What is Laser Dentistry?
In 1994, lasers made their first debut in the dental field to treat a variety of issues. All lasers work by emitting a precise beam of energy in the form of light. When they're used for certain procedures, the light can alter or vaporize affected tissue to prevent future oral health problems.
Certain dental procedures are often associated with discomfort because back in the day, professionals would have to use tools like a drill. Because a laser doesn't transmit heat or vibration, you won't have to suffer, and its accuracy helps minimize alteration of surrounding areas of your mouth.
What Procedures Use a Laser?
Most laser systems have been approved by the FDA and continue to become more advanced. Choosing a dentist that uses this technology can help minimize the post-surgery discomfort of some of the following procedures:
Tooth Decay- These tools can remove dental decay and prep the remaining enamel to receive a filling and prevent further damage.
Gum Disease- Lasers can be used to reshape gums and remove severely infected or damaged tissue and bacteria during a root canal procedure.
Biopsy- After an oral cancer screening, your dentist may have found a problem area in your mouth. With a laser, that can remove a small piece of your oral tissue to examine it for cancerous cells. This tool can also help remove lesions and relieve the discomfort of canker sores.
Depending on the procedure, your dentist may either use a hard or soft tissue laser. Some treatments even use both. Laser dentistry has a variety of benefits to offer patients and professionals alike.
What are the Benefits of Finding a Dentist That Uses This Modern Tech?
You may be thinking about how finding a dentist that offers this kind of advanced treatment might be expensive. Depending on the procedure, prices can vary, but compared to non-laser treatments, they may actually cost you less because they can be completed in fewer visits! Some other benefits that this modern technology can offer include:
Reduced need for anesthesia due to less discomfort
Can reduce patient anxiety
Minimal post-surgery effects like bleeding and swelling
Preserves surrounding areas because of precision
Less chance of bacterial infection because it sterilizes the area
Wounds heal faster
Finding a dentist that uses the most advanced treatments and technology in their field can help you get the high-quality treatment that you deserve. If you have an upcoming procedure, instead of enduring an old-school dental drill, seek a practice that uses laser dentistry!
About the Practice
At Smiles of Valparaiso & Associates, we offer a wide variety of services from four highly qualified and knowledgeable dentists. We focus on using the latest technology because we want our patients to feel comfortable and enjoy all the benefits these modern tools have to offer. We believe that visiting the dentist shouldn't be something to dread and that taking care of your smile shouldn't fill you with anxiety. For questions or to schedule an appointment, visit our website or contact 219-531-8914.