Skip to Content
Family Dentist in Valparaiso, IN
At Smiles of Valparaiso, we're here to take care of your entire family. So, whether you are bringing your toddler to us for his very first checkup or dear ol' dad for one of many visits, we have the general dentistry treatment necessary to make sure their teeth and gums are healthy and their smiles are beautiful.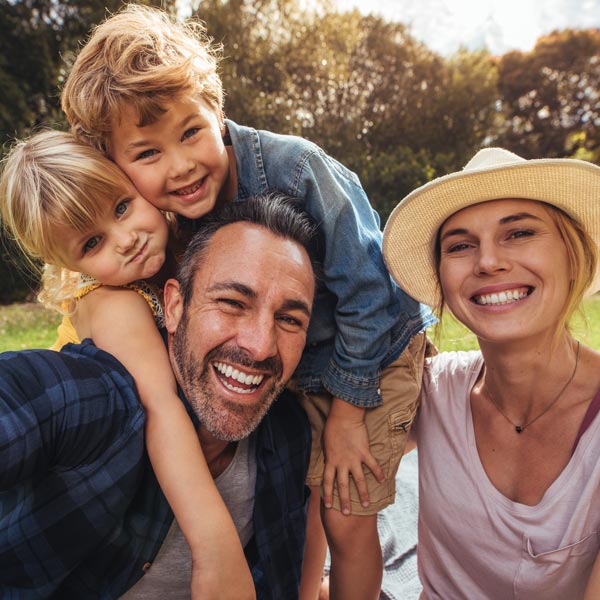 Indiana Family Dentistry
Family dentistry is something that we enjoy because we want to establish relationships that last a lifetime. We begin seeing children at the age of three and make a lifetime of dental care fun for them. Children are susceptible to the same dental concerns as adults—tooth decay, gum disease, even sleep apnea and TMJ disorder—so regular dental checkups every six months are important. Brushing and flossing can be difficult for kids, so your dentist will likely recommend fluoride treatments and dental sealants to help guard against decay. Fluoride is a mineral that has been proven to strengthen enamel, the first line of defense against decay-causing bacteria. Dental Sealants start as a clear or white plastic liquid that is "painted" on to your children's molars, where food particles and debris can more easily hide. Quickly hardened, sealants become a solid barrier between teeth and bacteria.
Complete Family Dental
As your family dentist, Smiles of Valparaiso does so much more than checkups. For example, rare is the person who goes through life without any tooth decay. So, when your dentist informs you that it's time to repair a cavity, rest assured we'll take care of your smile. In fact, Smiles of Valparaiso now uses tooth-colored fillings. Traditional fillings were always an amalgam of metals that not only left a dark spot in your tooth, but also caused some people to have metal sensitivity.
Tooth-colored fillings are made of composite resin materials that can be mixed to blend seamlessly with the color of your existing tooth. Moreover, a filling made of composite resin requires less prep. In layman's terms that means less drilling, which is never a bad thing. In fact, when we preserve more of your tooth's original structure, you end up with a tooth that is stronger. Resins also provide long-term protection against bacterial invasion. Once bonded, the filling won't wear down or change its shape despite the heavy forces of biting and chewing.
We treat everyone like family and provide a pleasant experience that alleviates fear. For children, we have a Sony PlayStation in the reception room and Gameboy in the treatment room. For adults, we offer hot and cold beverages, freshly baked bread, and a wide range of magazines and newspapers. We have many amenities and services that make children and adults alike want to come to the dentist! We offer something for everyone with comprehensive family dentistry.
Every dental procedure starts with a proper exam and screening. Reach out to our office by calling 219-531-8914 at your earliest convenience!