Skip to Content
Top 3 Questions About Invisalign Answered By a Cosmetic Dentist!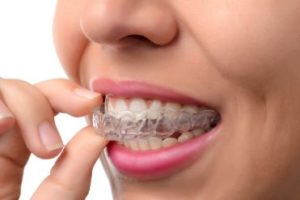 In this day-and-age, modern healthcare offers people a lot of services that they could have only dreamt about a few decades ago. Being able to straighten your teeth without traditional braces is one of them! About 20 years ago, dentists discovered that they could safely and effectively move teeth with clear, plastic trays – and Invisalign was born. It's been a real game-changer for anyone who wants to a straight, even smile -without wearing brackets and wires. Having said that, you probably still have a few questions before you call a cosmetic dentist to schedule a consultation. Keep reading below for answers to 3 of the most frequently asked questions!
Does Insurance Cover Invisalign?
Many insurance plans do provide some coverage for Invisalign (just as they would for traditional orthodontics). Having said that, it's important to remember that there are hundreds (if not thousands) of insurance plans out there, so it's always a good idea to contact your company directly.
You can also ask your dentist to file a pre-authorization beforehand, which is a formal estimate of what an insurance company will pay for a procedure.
Am I a Good Candidate for Invisalign?
Although Invisalign doesn't work for particularly severe bite problems, you'll be glad to know that it does work for most people. Here are some of the issues that Invisalign is perfect for:
Overbites and Underbites
Crossbites
Gaps
Overcrowding
Since every patient is evaluated on a case-by-case basis, the best way to know for sure that you're a good candidate is to schedule a consultation with a cosmetic dentist who is Invisalign-certified.
What Advantages Does Invisalign Have over Other Options?
Other orthodontic options include traditional braces and clear braces. Invisalign offers several advantages over both:
Appearance – This is the most obvious advantage, but is one that many patients value the most. The clear aligner trays used for Invisalign are so hard to see that no one will know you're in orthodontic treatment.
Fewer progress visits – With Invisalign, you don't have to schedule progress visits as frequently, so you'll only see your dentist about every 6 weeks instead of every 4.
No dietary restrictions – The aligner trays are removable, so you can still eat all of your favorite foods.
Better hygiene – Since you remove your trays before brushing and flossing, it's much easier to keep your teeth and gums clean and healthy while in treatment.
Comfort – It goes without saying that smooth plastic trays are a lot more comfortable than metal brackets and wires.
Invisalign is an outstanding alternative to braces that has been safely and effectively used to treat thousands of patients. Most people's only regret is that they didn't do it sooner!