Skip to Content
How Can Invisalign in Valparaiso Help Your Smile?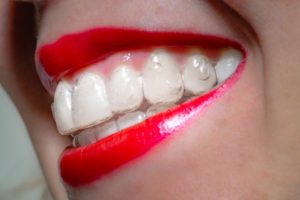 If you missed the chance to have braces when you were younger to straighten your crooked teeth, your smile is most likely still suffering. Now as an adult, you notice it more and are self-conscious of grinning in pictures and during social situations. You want to straighten them, but the thought of committing for possibly years to a mouthful of cumbersome braces isn't doable. Not with your professional ambitions. Fortunately, Invisalign in Valparaiso can give you your best smile without the added inconveniences of traditional braces. Check out this helpful information about how Invisalign aligners work and what benefits they can offer you.
What is Invisalign?
Invisalign is an FDA-approved, nearly invisible way to straighten your teeth compared to traditional braces. It consists of a series of see-through removable aligners for your teeth. Each tray is crafted to apply a precise amount of gentle pressure to your teeth to gradually align them.
To start the Invisalign process, your dentist will take X-rays and impressions of your teeth that the Invisalign lab will use to create a 3-D model. From there, your dentist will map out a treatment plan including a timeframe for the treatment.
What Benefits Can Invisalign Offer You?
While there are multiple treatments that can straighten your smile, only Invisalign offers a specific set of benefits that don't add any day-to-day inconveniences to your life. It allows you to work towards a straighter smile without having to wear metal brackets that irritate and cut your mouth.
Some benefits of Invisalign include:
Practically invisible appearance—they aren't unsightly and are an especially great option for adults who are constantly interacting with people in professional or social settings.
Time-saver—traditional braces can require years of commitment. The average Invisalign treatment only lasts between 8 and 18 months. On top of that, with Invisalign, you'll spend less time at the orthodontist or dentist's office.
Easy cleaning and use—because aligners are removable, you can just take them out whenever you brush or floss. With traditional braces, it can be difficult to remove food debris from between all that metal, which could have detrimental effects on your gum health.
No food restrictions—with braces, you are forced to cut out a whole slew of your favorite snacks because they could ruin your brackets and get trapped between your braces. With Invisalign, you can continue to eat whatever you feel like without causing harm to your oral health.
After years of having a crooked and misaligned smile, cleaning it up can give you the self-confidence boost you've been needing. With Invisalign, you'll hardly notice your aligners, but you will notice fast results. Your smile is priceless, so don't hesitate to invest in it and schedule a consultation appointment!
About the Practice
At Smiles of Valparaiso & Associates, we can give you the straight smile you've been wanting since you were young by crafting an Invisalign treatment plan especially for you. As a practice that holds over 6 honors and awards, it's no wonder why we're a preferred Invisalign treatment facility. For any questions or to schedule a consultation appointment, visit our website, or contact us at 219-531-8914.