Skip to Content
Cosmetic Dentistry Options to Get Your Dream Smile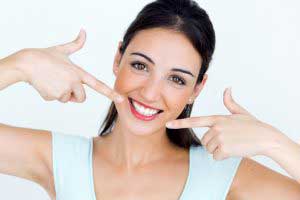 If you are dissatisfied with your smile, you are not alone. In fact, it is estimated that 50 percent of Americans are not happy with the appearance of their smiles. Thankfully, you can do something about it with cosmetic dentistry. While cosmetic dentistry was once considered to only be an option for the elite, cosmetic dental procedures are now more affordable and convenient. As a cosmetic dentist in Valparaiso, we offer a variety of cosmetic dental procedures to give you the dazzling smile you have always wanted. We will evaluate your teeth and gums to create an individualized treatment plan that may consist of one or more cosmetic procedures.
Teeth Whitening
If you have tooth discoloration dulling your smile, professional teeth whitening will give you a brighter, whiter smile. We use the Zoom Whitening System to remove tough tooth discoloration to restore your smile's youthful appearance. The professional-grade whitening agent deeply penetrates the enamel to remove stains.
Porcelain Veneers
Porcelain veneers provide drastic results using a simple and noninvasive procedure. By attaching natural-looking false fronts to the teeth, we are able to hide cosmetic flaws like chips, cracks, and discoloration. In some cases, we can make the teeth appear straighter by hiding small alignment issues. Overall, the teeth are given a more proportionate appearance.
All Porcelain Crowns
All-porcelain crowns are customized to match the exact size, shape, and tooth color you need for a restoration that blends in seamlessly with your existing teeth. We can use crowns to restore the appearance of severely damaged teeth or teeth that are abnormally shaped.
Cosmetic Bonding
Cosmetic bonding is an affordable and versatile procedure used to improve the appearance of the teeth. Using a tooth-colored composite resin material, we are able to give the teeth a shapelier appearance. This is perfect for those who have chips, cracks, or shorter than average teeth.
Tooth-Colored Fillings
If you have dark metal fillings hurting the appearance of your smile, we can remove the old fillings or place new fillings using a tooth-colored material. The fillings can be customized to match your enamel color for a repair that blends in with your smile.
Tooth Replacement Options
Nothing hurts your confidence or smile's appearance worse than missing teeth. We will give you a complete smile with an array of tooth replacement options. We provide dentures and crowns and bridges to replace your missing teeth while improving your oral health and oral functions.
Invisalign
Invisalign allows you to get a straight smile using a nearly invisible orthodontic treatment. Wearing clear aligner trays over the teeth move the teeth into their correct positions without the need for brackets and wires.
Your Cosmetic Dentist in Valparaiso
If you are tired of looking at an unattractive smile, it is time to consider cosmetic dentistry in Valparaiso. We offer a wide range of services to give you a smile makeover. Let us help you get the beautiful, flawless smile you have always wanted. Call your trusted cosmetic dentist in Valparaiso today!