Skip to Content
Why Is Porcelain Used for Dentistry in Valparaiso?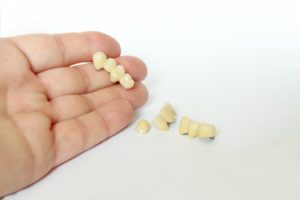 Throughout the centuries, a wide range of materials has been used to restore teeth. For a long time, dentists favored metals, such as gold and silver, because they are both durable and malleable. More recently, however, porcelain has become the material of choice for dentistry in Valparaiso. What exactly is porcelain, and what makes it so good for dental treatments?
What Is Porcelain?
The word "porcelain" refers to a wide range of different materials, all of which are created by heating ceramic materials. Porcelain may be used to create chinaware, household decorations, or even electric insulators. Dental porcelain is a special, biocompatible material that has been refined over the years to provide beautiful, long-lasting restorations.
The first porcelain dental crowns came into being in the late 19th century. However, because the techniques for creating the crowns increased the risk that the porcelain has microcracks inside of it, dentists tended to favor porcelain-fused-to-metal (PFM) crowns, which have a thin layer of porcelain over metal support, for many years. Although durable, PFM restorations do not look as natural as their all-porcelain counterparts.
Throughout the years, scientific advancements made all-porcelain crowns stronger and more beautiful than ever. Today, these restorations offer a number of remarkable benefits.
The Benefits of Dental Porcelain
The most obvious benefit of the dental porcelain that is used today is its aesthetic value. It comes in many colors, so dentists can create restorations that blend in seamlessly with the teeth around them. Porcelain even reflects light in a manner that is similar to tooth enamel, making it the perfect material for individuals who want to restore their teeth without compromising their smile's natural beauty.
Other benefits of dental porcelain include:
It is strong enough to stand up to all of the rigors of everyday eating and drinking.
It is resistant to stains.
It is durable; a porcelain crown can last for 5 – 15 years or even longer.
It is cost-effective. Many dental insurance companies are willing to help pay for porcelain restorations, and their cost is comparable to that of other crown types.
Is Porcelain Better Than Metal?
Metal crowns, particularly ones made of gold, used to be extremely popular, and they're still in use today. They may be slightly more durable than their porcelain counterparts, and because they're so tough, they might be a better option for patients who grind their teeth. However, gold has the obvious disadvantage of looking nothing like real pearly whites.
If you need a crown, it's wise to talk to your dentist about all of your options. After they evaluate your oral health, they educate you on the pros and cons of your restoration choices. The type that's best for you may depend on which tooth needs the crown, your budget, and your personal preferences.
Dental porcelain is an amazing material that helps to preserve your smile's natural beauty. Why not ask your dentist if an all-porcelain restoration is right for you?