Skip to Content
Treat Your Teeth to High-Tech Dentistry at Smiles of Valparaiso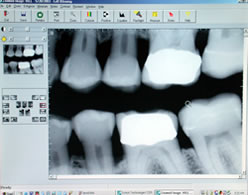 For dentists who are committed to providing their patients with the most thorough and comfortable oral health care available, keeping up with the latest dental technology is key. Modern tools and techniques offer countless benefits to both patient and doctor – they help make services more efficient and effective, increase comfort, and enhance patient education, among other aspects. That's why at Smiles of Valparaiso & Associates, we've spared no expense in equipping our offices in Naperville, and Valparaiso with the most up-to-date equipment available today in the world of dentistry. Dr. Arnold and his vast team of professionals will be glad to utilize these tools whenever needed in order to send you back out into the world with a happier, healthier smile.
Here are just a few examples of equipment that could benefit your teeth the next time you come in:
Waterlase Laser
By utilizing a laser beam that energizes an incredibly precise spray of air and water, the Waterlase Laser is able to effectively and thoroughly remove decay, as well as help with procedures like root canals, bone procedures, and cavity preparation – all without the use of a drill!
Digital Radiography
Traditional X-ray machines take quite a bit of time to print out a decent image of patients' mouths, and they emit a fair amount of radiation as well. Digital X-rays are quicker, much more thorough, and produce up to 90% less of those dangerous rays!
Zoom! Whitening
For patients who are looking to gain dramatically whiter teeth faster, Zoom! is the perfect solution. Using a light-activated gel and the patented Zoom! light, your teeth will be gently penetrated and cleansed of even the most stubborn stains and discoloration. Better yet, the procedure takes only about an hour to complete!
To learn more about the other various technologies we can offer you, look here! Here at Smiles of Valparaiso & Associates, we want nothing more than to give you a reason to share your smile with the world! Contact our Naperville, or Valparaiso office today to schedule an appointment.