Skip to Content
Treat Complete Tooth Loss with Dental Implants in Valparaiso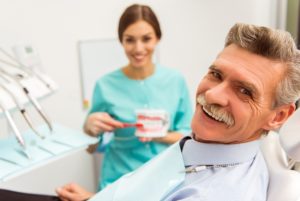 Are you among the 36 million Americans who are suffering from complete tooth loss? If so, you now live with a variety of challenges that impact your quality of life. Not only did you lose your confidence, but your ability to chew and speak with ease. To regain a complete smile, you may have tried traditional dentures in the past, but they just did not meet your needs. What if you could use an option that closely looks and functions like natural teeth? Now you can with dental implants in Valparaiso. With implant-retained dentures, you will restore your self-esteem and quality of life with a successful solution.
Benefit from Implant-Retained Dentures
An implant-retained denture is a type of overdenture that uses dental implant posts to hold the oral appliance in place. The implant posts are made from titanium, biocompatible material, which allows the body to accept it. As a result, it stimulates new bone growth, allowing the jawbone to fuse to the posts. This provides security and stability with an option that can potentially last for a lifetime with the right aftercare, like maintaining your oral hygiene.
After adequate healing has occurred, you are fitted for a custom-made denture that will be attached to the implant posts. There are different types of attachments that can be used, such as a ball attachment, bar attachment, or screw-retained. Your dentist will determine which type of implant dentures in Valparaiso will best meet your needs.
Invest in Your Quality of Life
Dental implants have quickly become the preferred choice to replace missing teeth because they provide predictable and reliable results. In fact, their success rate is over 95%. This allows you to make a true investment in your oral health and quality of life with a long-term solution.
You will once again be able to eat your favorite foods because they will function similarly to your natural teeth. When compared to traditional dentures, they offer an increased biting force of over 70%. You will not have to worry about slipping, irritation, or discomfort.
Although they do cost more than traditional options, it is money well spent because you will not have to worry about having the implant posts replaced, allowing it to be more cost-effective long-term. The amount you can expect to pay for the procedure varies from person to person. There are several factors that will influence the price, such as if one or both arches need treated, additional procedures, and insurance coverage.
Get a Complete Smile Today
If you are ready to overcome the challenges of tooth loss, it is time to see if implant-retained dentures are right for you.
About Smiles of Valparaiso & Associates
Smiles of Valparaiso & Associates is committed to creating beautiful smiles while enhancing your oral health. With the highest standards for excellence, we provide world-class care from our state-of-the-art facility. If you are interested in treating your tooth loss with dental implants, contact our office today to schedule your consultation for a new smile.