Skip to Content
This Cosmetic Dentist in Valparaiso Can Create Even Teeth!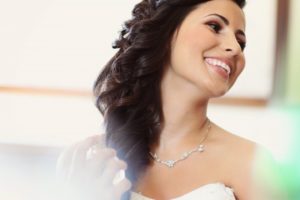 Are you tired of having an uneven smile? Your longer tooth usually rubs on your soft tissues and causes irritation. Not to mention, it's embarrassing to smile! If you want to improve your smile, but don't know where to start, Smiles of Valparaiso & Associates can help you. We have a variety of dental options to assist you in achieving the perfect, straight smile. Let's take a look at how your cosmetic dentist in Valparaiso can help you reach your goals.
Why Is It Important to Have Even Teeth?
Besides looking pretty, you can benefit a lot from straightened, even teeth. Not only do align, even teeth help you eat without a problem, but they also eliminate dental pain and assist you in speaking properly.
Did you know that misaligned teeth can cause headaches as well? When your teeth are in the wrong places, uneven, or turned in the wrong directions it can cause your joints to work in overdrive. Your temporomandibular joints (TMJ) can become damaged and cause you discomfort. A TMJ disorder is notorious for pounding headaches and jaw pain. Avoid that altogether with these options to help you even out your teeth.
How Can Smiles of Valparaiso & Associates Help Me Even out My Smile?
When it comes to your smile, it's important to choose a dentist that offers a variety of options. This way, you know they will work with you to narrow down which is best for you. Our practice offers three options for an evening out of your teeth.
Veneers
To help you even out your smile, your dentist can fit these high-quality shells of dental porcelain over your teeth. With this simple, quick procedure, your dentist can have your dental issue solved within just a couple of appointments. You can actually cover multiple dental problems at once—not just your uneven teeth. You can also fix these imperfections:
Irreversible stains
Chipped teeth
Worn teeth
Crooked teeth
Misshapen teeth
Uneven spaces and gaps
Cosmetic Bonding
Cosmetic dental bonding is the application of a tooth-colored composite resin to improve your smile. This cosmetic procedure can be used to repair teeth that are decayed, chipped, discolored, and even make your teeth look longer. In some situations, bonding can be used to protect a portion of a tooth root that has been exposed because of gum recession, providing more than just an aesthetic fix. With this procedure, you won't have to worry about making changes to your longer tooth. Instead, we will simply add to the shorter tooth.
Enameloplasty
If you've never heard of an Enameloplasty, don't worry. This is a minimally invasive procedure that reshapes your natural teeth to improve their appearance. When your teeth are uneven, we can contour the longer tooth to match your shorter one. With our attention to detail and advanced resources, we can gently and artfully eliminate or minimize your imperfections to achieve your dream smile.
Get the Help You Need to Even Out Your Teeth
Are you—and your cheeks—tired of having uneven, bothersome teeth? Instead of suffering from rubbing and discomfort from your longer tooth, take the necessary measures to achieve a straight, even smile. Contact us today to discover which procedure is best for you.