Skip to Content
Looking For a New Family Dentist? Use This Checklist To Find the Best!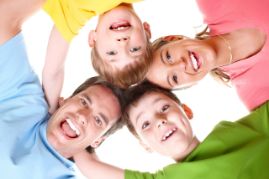 There's no question that a great family dentist is an incredibly valuable thing to have. Every member of the family will be getting dental visits at least twice a year, which adds up to spending quite a bit of time there. And when you're looking for a new dentist, how can you make sure that you'll not only get great care but also have a good experience at every visit? Since choosing the first dentist you find from a Google search is a bit of a gamble, spend some time on their website and use a checklist of the most important things to look for. That's the best way to increase the chances that you'll find a fantastic family dentist on the first try. Learn more below!
1. Look For Comprehensive Care
Each member of your family will have different needs at different stages of their life. For example, your spouse may need an oral appliance for sleep apnea or gum therapy, while your toddler needs pediatric care. And since life can be unpredictable, anyone might need emergency care at some point!
When a dentist offers many services under one roof, you won't have to coordinate care between multiple offices. Look at their service menu to see if it includes all of the following:
Emergency care
Implant dentistry
Cosmetic services
Sedation options
Gum therapy
Restorative care
Pediatric services
Dentures
Oral Surgery
2. Read Reviews
People used to rely on old-fashioned word of mouth to find out who their family and friends recommended for dentists, doctors, mechanics and more. Nowadays, online reviews have largely taken the place of the word of mouth conversations – and now they're the best way to find out what a current patient's actual experience has been.
3. Convenience
If an office has multiple dentists, it means that someone will always be there for you and your family's dental needs. And having multiple locations is particularly convenient because you can simply go to the office that's closest to work, school or home.
4. Modern Equipment and Technology
Dentistry has come a long way in recent years! Getting dental work is a completely different experience than it once was, in large part because modern equipment and technology have made it more comfortable and efficient.
That's why it's so beneficial to look for services such as digital X-rays, which use almost 90% less radiation than traditional X-rays and are also more comfortable. In addition, patients love technology like laser dentistry because it makes their procedures faster and more comfortable – not to mention that they heal faster as well.
Finally, it's worth it to spend a few minutes reading the "bio" pages of the dentists you'll be seeing. It can give you a good idea of their background and training, as well as the professional associations they're involved with and any awards they've received.
By taking a little time to find the right family dentist, you can be sure that everyone in the family will have a healthy, beautiful smile for life!