Skip to Content
Is Teeth Whitening Always the Best Answer for Stained Teeth?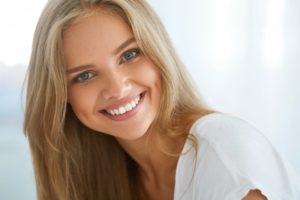 One thing's for sure; if there's any trait that people will notice about you, it's your teeth. That means that stains and discoloration could leave you feeling less confident, and they can lead to you making poor first impressions. Teeth whitening provides a way to overcome these smile blemishes, but is it always the right solution? If not, is there an alternative? As you continue reading, these and other questions are answered in-depth by your dentist in Valparaiso. By receiving the right information and expert treatment, you can soon have a smile that dazzles!
How Teeth Whitening Works
The ZOOM! The whitening process starts with your cosmetic dentist securing your lips and gums to prevent any irritation. Next, the high-powered ZOOM! Whitening Gel is applied and activated with a specially designed light. This is followed by a five-minute fluoride treatment, the end result being a set of teeth that are six to 10 shades brighter.
What Makes ZOOM! So Effective?
The reason normal toothbrushing can't address most stains and discoloration is that it can't penetrate the enamel where the particles have become embedded. This is where ZOOM! Whitening comes in handy. Its high-powered gel is pH balanced to cause a chemical reaction when the special light is activated. The result is that the particles embedded in the enamel are freed to leave the teeth looking rejuvenated.
While ZOOM! Whitening is highly effective, it's not always the best fit. That's because there are other factors that affect the results one receives from teeth whitening, such as a genetic predisposition to tooth discoloration, an existing medical condition, continued tobacco usage and more. Thankfully, there is an alternative available.
The Porcelain Veneers Alternative
The placement of porcelain veneers, which are cosmetic fixtures crafted from high-grade dental ceramics, provides a remedy for patients who can't get the results they want from teeth whitening. The thin porcelain shells are bonded directly to the front-facing teeth to mask gaps, misalignment, stains, and discoloration.
The following details how the process works:
A thin layer of enamel is removed.
Bite impressions are taken.
Temporary veneers are placed to protect the exposed portion of the tooth.
A complete smile plan is sent to an in-network lab that will fabricate the permanent set of veneers.
When the permanent veneers return, they are bonded into position by your cosmetic dentist.
The final result will be a beautifully-remade smile. To determine whether ZOOM! Whitening or the placement of porcelain veneers is the best choice for enhancing your appearance, contact your cosmetic dentist today to request a visit!