Skip to Content
For Family Dentistry, Valparaiso Turns to Smiles of Valparaiso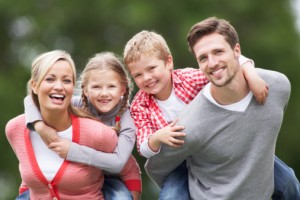 Have you ever stopped to think about all of the health care professionals you may need for your family? The kids need a pediatrician; you may need an internist and a number of specialists, such as an obstetrician, an allergist, or a dermatologist; and if you are caring for elderly parents then you may also see a gerontologist, rheumatologist, and a cardiologist. No question—medicine has become a profession of specialization. Dentistry, on the other hand, is designed to take care of almost all of the dental needs of everyone in your family. Smiles of Valparaiso with offices in Valparaiso IN offers a comprehensive menu of dental services to help you more easily care for your family members' smiles.
To get your children off on the right foot toward a lifetime of good oral health care, the dentists and their staff at Smiles of Valparaiso would like to begin seeing them before they are three years old. By this age, most children are capable of sitting independently in the dentist's chair so that we can clean and examine their teeth, as well as the condition of their gums. Believe it or not, those little pearly whites are in danger of cavities and gum disease just like adult teeth.
As your children grow and mature, we'll keep a close eye on not only the health of their teeth and gums but also the development of their bite and teeth alignment. Misalignment can indicate the need for orthodontic treatment and an improper bite may be the reason for the uncomfortable symptoms of the temporomandibular joint disorder, more commonly known as TMJ.
Valparaiso Family Dentist for the Ages
Whether young or old, you may need restorative dentistry at some point in time. For example, when you have a cavity, which is the result of tooth decay, it's important to have one of our Valparaiso family dentists restore your tooth's form and function with a tooth-colored filling. Because these fillings are made of composite resin, we can blend the material to perfectly match the color of your tooth. No one but you and your dentist will ever know you've had a filling.
Of course, as your body ages, so do your teeth. Eventually, you may need to have a porcelain crown to protect a tooth that has become worn or is threatened by a crack that runs deep into the root. Tooth loss becomes more likely with age, too. To maintain your oral health, Smiles of Valparaiso offers a number of tooth replacement options including, dental implants, dentures, and crown and bridge therapy.
Call Our Office Today
If you're looking for a family dentist who is skilled and experienced in dental care for all the members of your family, then contact Smiles of Valparaiso. With offices in Valparaiso, IN, we also conveniently serve people from Portage, Porter, La Porte, Michigan City, and Wheeler and nearby NWI cities.