Skip to Content
For Dentures, Valparaiso comes to Smiles of Valparaiso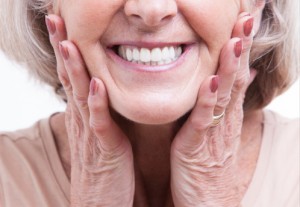 Dentures are an excellent choice for tooth replacement if you are missing one, several, or all of your teeth along one or both arches. With dentures—whether a full denture to replace an entire arch or a partial denture that replaces a few teeth within one arch—you can enjoy a complete and healthy diet and you can speak and smile with confidence. At Smiles of Valparaiso, with offices conveniently located in both Valparaiso, IN, you can be sure that the dentures you receive will fit comfortably and restore your functional and beautiful smile.
After you have your dentures, proper care is important to ensure a natural and comfortable fit, as well as the longevity of your dentures in Valparaiso, IN. With this in mind, the dentists at Smiles of Valparaiso would like to offer the following denture care tips.
This may seem obvious, but be careful when you handle your dentures because they are breakable. When you clean them, either place a thick towel in the sink or fill the sink with water to cushion the fall if you should accidentally drop your dentures.
Never use toothpaste on your dentures. Toothpaste has abrasive particles, which can leave microscopic scratches on the base or the false teeth. In turn, these scratches can collect debris and plaque.
Brush and rinse your dentures every day. Yes, we said no toothpaste, but it's still important to brush your dentures in order to remove food debris and plaque. Simply use a soft-bristle denture brush and water to thoroughly brush the outside, inside and underside surfaces of your dentures. Be careful not to bend the clips or brackets that hold your partial denture in place. If you can't brush your dentures after a meal, then rinse with clear water.
Use a denture cleaner to clean your dentures. Although these cannot replace daily brushing, a denture cleaner that has the American Dental Association Seal of Acceptance can keep your dentures looking, feeling, and tasting fresh. There are several cleaners sold over-the-counter. In a pinch, you can use hand soap or a mild dishwashing liquid to clean dentures.
Call Our Office Today
If your smile is compromised by missing teeth, then consider dentures, northwest Indiana. With proper care, your dentures can give you years and years of oral health and happy smiles. With an office in Valparaiso, IN, we also conveniently serve people from Portage, Porter, La Porte, Michigan City, and Wheeler and nearby NWI cities.